Home Maintenance Tips For Spring | CBH HOMES
The transition from Winter to Spring in Idaho can be, well, rough. From rain, to sunshine, to snow showers, then back to sunshine, it can be a whirlwind to keep up with! While you're waiting for the weather to calm, spring is the time to do a check-up on your home to make sure everything is still performing the way it's supposed to. Here are 10 home maintenance tips that you should be doing this spring.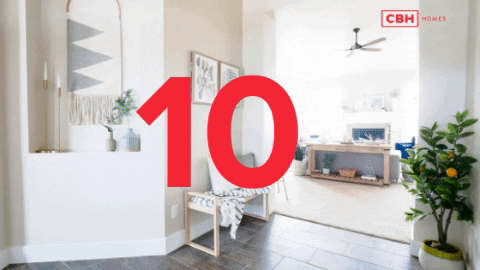 1. Check Your Roof 
The first of our home maintenance tips… Check to make sure your roof is completely intact after this windy season. Your roof is what's keeping the water OUT, I'm sure you want to keep it that way! Be sure to check for any warping or cracks and get those fixed as soon as possible!
2. Check your Gutters
While you're up there checking the roof, might as well clear out those gutters of any debree that's been stuck all winter. Anther tip – make sure the downspouts drain away from the foundation. Improper drainage is a no no.
3. Make sure your AC Unit is in tip top shape. 
  Watch the video below for the 4 places Brett checks to troubleshoot the air conditioner!
4. Replace your Furnace Filter
This relates directly to step #3. Did you know you're supposed to change your furnace filter EVERY 60-90 days?! Home maintenance tips aren't always hard, this one is quite easy! Be sure to add a reoccurring appointment in your calendar so you never forget!
5. Touch up on Exterior Paint
Cracked or peeling paint isn't very apPEELING on the eyes!  Touching up a few spots here and there is an inexpensive way to protect your home from the elements, and make it look top knotch!
6. Replace Smoke Detector Batteries
While you're in spring cleaning mode, grab a ladder and replace the smoke detector batteries. Better now than in the middle of the night! Why does it seem like they always go off at 2am? 😉
7. Check Seals Around Your Windows and Front/ Back Doors
The cold winter weather can harden and crack your caulk. Check them out and repair if necessary!
8. Check your Pop up Sprinkler Head
It's always a good idea to adjust your pop up sprinkler heads after a long cold winter. Turn your sprinklers on and do a quick walk through to make sure they're doing their job correctly and have the correct flow!
*TIP: Put on some shorts and flip flops you can get wet!
9. Clean your windows!
Okay, you might want to wait until AFTER spring for this one (hello rainy season). Did you know you can actually take your windows OFF? Imagine how clean you could get those bad boys…
10. Clean your sink disposal
This one might make you feel a little cringey… think of all the food and germs that go down your garbage disposal every single day. Spring maintenance doesn't have to limit to the big things!
We CARE at CBH Homes – Do you need some warranty help? Check out our Warranty page on our website, there's a TON of helpful information!
Did this post make you feel a little bit smarter? We sure hope so! If you're currently in the process of purchasing a new CBH Home, check out our helpful blog post – The Big Move!